10 years. That's how much time passed since I first started working in the EU space sector. On the 1st of March 2011, I entered the European Commission's Breydel building (housing the then DG ENTR) feeling like someone from outer space. This was more than just a figure of speech, as up to that point I had followed an academic career as a theoretical astrophysicist working with Supernovae to understand dark energy and the geometry of the universe. I guess this was the first day in my life I kind of looked like a consultant – a job title that has been with me since. My green tie in place (after a few tries to achieve the perfect half-windsor), the suit in a decent state (only its 2nd outing since prom night!), I felt filled with wonder just like a kid entering Disneyland for the first time. Aside from being a major career change, the thought of working for the EU flagship Galileo programme – even if just for six months as a trainee – was truly inspiring. 10 years later, I am pleased to say that this inspiration – further fuelled by my later work on Copernicus – still drives me and, if anything, has only gotten stronger with time. Reaching this personal "milestone" feels like an invitation to reflect on my journey and on how much both I and the EU Space programme have grown since it all started. I also take this opportunity to share some thoughts, observations and questions for the future.
A journey of a thousand miles begins with a single step
I'm privileged to have witnessed the evolution of the European Global Navigation Satellite Systems (GNSS) from up close – the first two Galileo operational satellites were launched at the very end of my traineeship (October 2011) and, as I write, the announcement of Full Operational Capability, i.e. 24 active satellites in orbit, is just around the corner.
Despite drawbacks, and in the face of all sorts of criticism (justified or not), Galileo has gone a long way towards becoming the most advanced GNSS with a range of novel services progressively being rolled out. As a member of one of the first working groups aiming to define the (then) Commercial Service, I'm excited to see how these services will shape new applications. Special features aside, the contribution of the Galileo Open Service to the multi-frequency/multi-constellation paradigm is significant in its own right.
Similarly, EGNOS, the less known but very successful "sister" programme of Galileo (augmenting GNSS signals), had just reached a significant milestone in March 2011 – its certification for use in "safety of life" applications. Since then, hundreds of airports have introduced the use of EGNOS into their landing procedures and it has also become a technology of choice for entry-level users in agriculture. Should you be interested in learning more about it do have a look at ESA's celebratory note commemorating EGNOS's 10 years of service.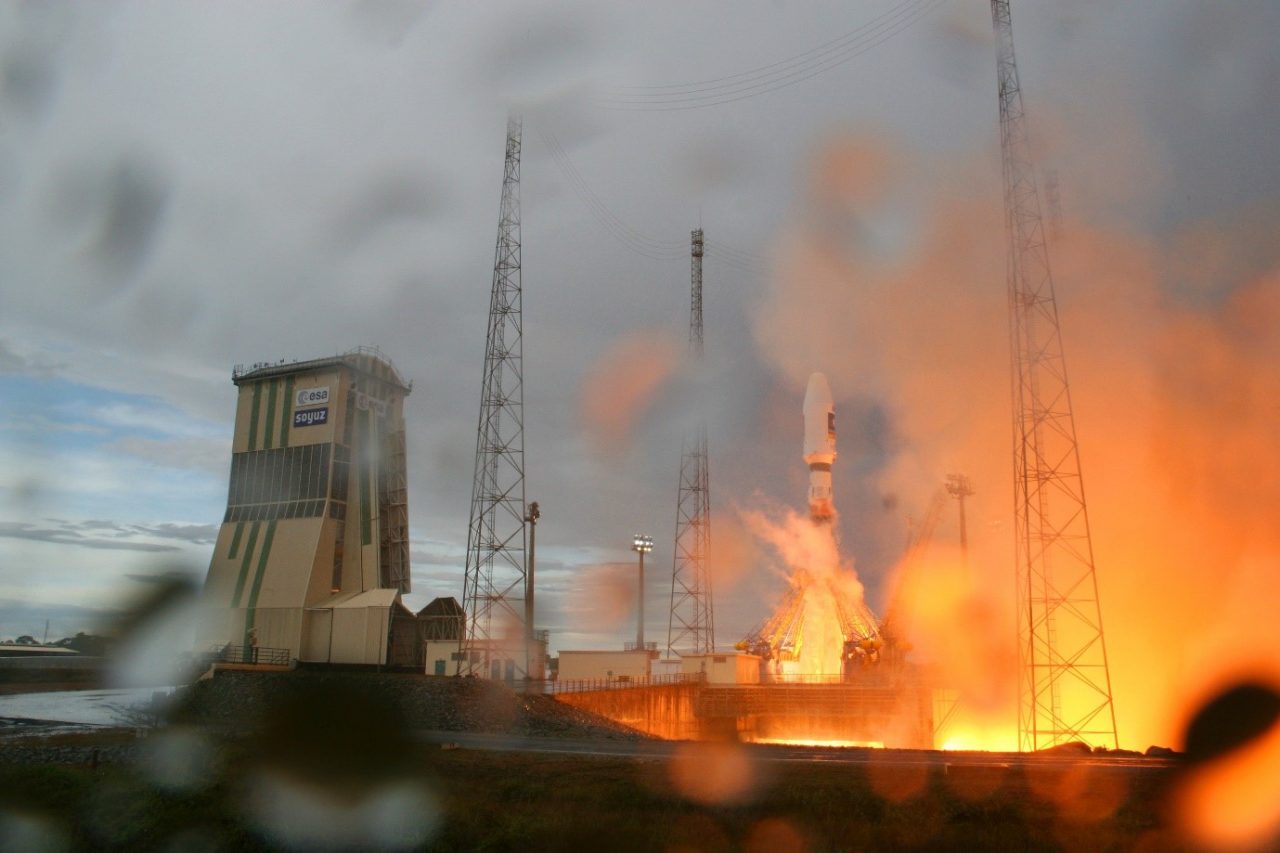 Launches, orbits, trajectories
My first contact with the European GNSS programmes and the ecosystem around them ended up defining much of my career. Perhaps fittingly, it was at the side-lines of the 2011 EU Space Policy Conference (back when participation was free of charge…) that I had my final interviews with my soon-to-be bosses and colleagues at SpaceTec Partners. Being only the 2nd consultant to join the Brussels office at the time, I enjoyed exposure to multiple projects, contracts, people, and situations. Towering over everything else I learned or experienced in SpaceTec, in terms of importance, was the beginning of a beautiful relationship (to paraphrase Humphrey Bogart) with my then colleague and now Evenflow co-founder, Dimitri Papadakis. A representative of a mix of cultures (Greek, British and South African) and looking like a young Eddie Vedder turned consultant, Dimitri became much more than the guy I shared a desk and some linguistic heritage with. For 10 years now, Dimitri has been my flow-seeking and flow-finding business partner, the guy alongside whom I have sketched plans and trajectories, created and (occasionally) solved puzzles which made our lives more interesting and difficult at the same time but, above all, a dear friend. Together, we took a giant leap of faith launching Evenflow in 2015 driven by the belief that the market around the EU Space Programme would keep growing and we could carve a niche for ourselves in it.
Today, with more than 10 truly amazing people working with us at Evenflow, we can look back on the different experiences, failures, and successes with a strong sense of fulfilment and gratitude. The promising outlook of things to come in terms of space-based applications (and the many sectors they support) only augments these feelings. In this context, next to Galileo and EGNOS, Copernicus has had a very special place for me ever since I first came into contact with the programme.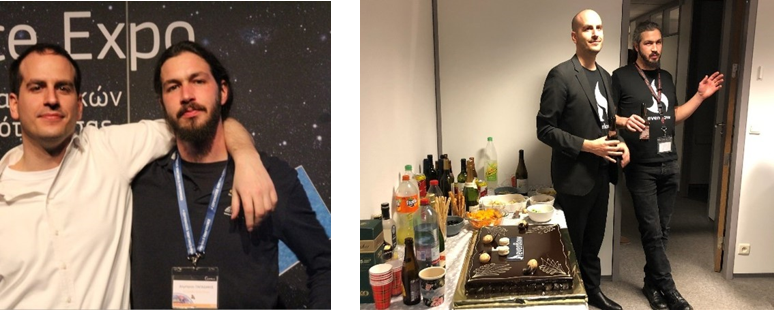 Copernicus is born
The first steps on my Copernicus-related journey came a bit later when I joined SpaceTec partners. Technically, I first started work on projects still carrying the GMES banner and witnessed in April 2012 the declaration of the first GMES operational services: the Emergency Management Service and the Land Monitoring Service. Working back then with GMES – soon to be officially renamed Copernicus (in 2012)[1] – felt rather special. Whereas Galileo is, in many ways, the exact equivalent of GPS (just better!), Copernicus really felt like a unique programme due to its distinct multi-actor governance and myriad of innovative applications in key societal, environmental, and business areas. At the time, some were already operational whereas others were at conceptual phase. My sense of wonder around the programme deepened as I have watched Copernicus evolve whilst working with both providers -developing these applications – and the users adopting them. As with Galileo and EGNOS, the outlook for Copernicus looks bright. I have recently taken a stab at analysing current trends in the EO sector, so, if you feel like knowing more, I encourage you to explore the e-shape insights.
Observations
Over the past 10 years, which in many ways feel like a much longer period of time, I have had the opportunity and honour to be involved in some very influential studies for the European Commission and other key actors (ESA, GSA, SatCen, EEA). I have also contributed to many successful R&D projects (more than 25 FP7, H2020, ESA, CAMS, CMEMS, etc.), participated in some flagship initiatives (European Space Expo, EuroGEO), contributed to or even managed numerous proposals wholesale, and worked together with – being often mentored by – many incredible men and women in the sector.
This marvellous journey, to quote my favourite poem by the Greek poet C.P. Cavafy, has been full of adventure (thanks Evenflow!), discovery and more than just a "rare excitement that stirs your spirit and your body". Indeed, through all this, I found myself constantly inspired, often surprised and occasionally amazed, mostly at how intelligent ideas turn into operational solutions which enable tangible benefits, but also – on a couple of occasions – at things that don't quite work as expected. So, with the benefit of hindsight and the challenge of foresight, what would I pick out as discussion-worthy?
(Self)Awareness
Over these last 10 years, we have seen a progressive shift in relation to the key messages around the EU Space Programmes and the ways in which uptake was pursued. In the early 2010s, with the programmes merely mature enough, communication focused on what they do and how well they can do it being very programme-centric and thus self-aware. Return on investment was a main driver for the different awareness raising campaigns and technology push was the common denominator for most EU or ESA funded activities. One such major outreach initiative was the European Space Expo – a highlight in my career as it offered me the opportunity and joy to introduce space to small kids and teenagers. I am still touched by the memory of my then 6 year old Greek friend, Gary, who kept notes on his tiny notebook regarding steps to follow to become an astronaut. Another dear memory is that of my interactions with visitors from a variety of European cities (Copenhagen, Brussels, Hannover, Munich, Prague, Larnaca, etc.) who wanted to understand the workings of the EU Space Programmes, planned space exploration missions and how to determine the position of someone on Earth with centimetre precision using satellites flying 23,000 km above. However, through this exposure to literally thousands of people across Europe (with the Space Expo Athens organised by Evenflow attaining a record visitors!) I came to understand how far off the mark such efforts were going. Despite the numerous magical moments in the "dome", we couldn't help but agree with some of the negative feedback received from visitors, e.g.: (i) the content was only available on-site, for a given timeframe in a given city and with virtually nothing online; (ii) it was often "self-promoting" of different EC or ESA programmes and less focused on truly inspiring the younger generations; and (iii) there was no systematic or built-in way to organise follow-up engagement (outside of voluntary efforts by ourselves or local experts to share material with schools, etc.).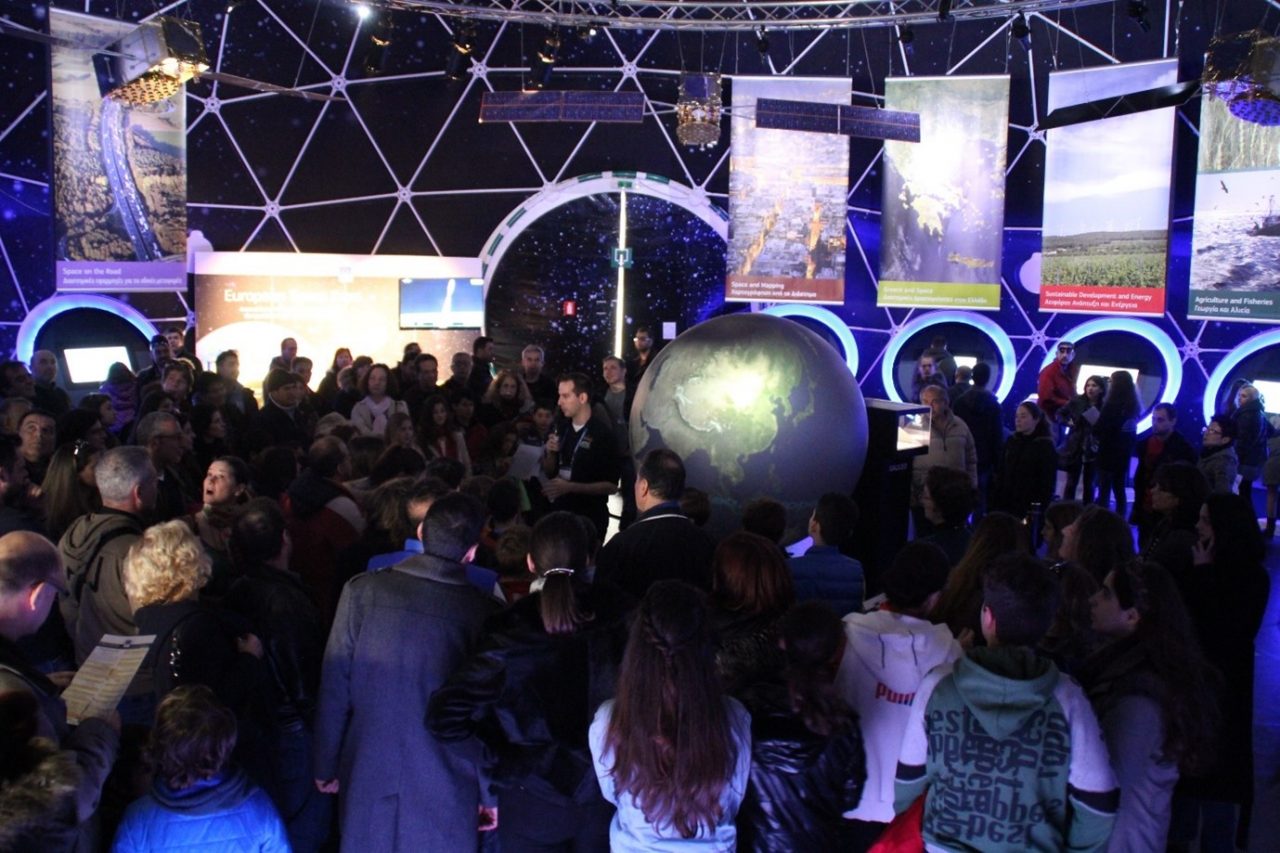 Beyond the awareness raising campaigns targeted at the general public, most sector-specific promotional efforts around Galileo and Copernicus are equally "self-aware". One doesn't need to dig deep to see that these actions are primarily technology push efforts (many project titles make for telling examples, having a "Programme for Sector" structure, i.e. EO4XX", "GNSS4YY"). Although there is nothing wrong with this as such, when combined with a significant lack of market pull efforts (Marine-EO, OCRE and NoR being among the few), this approach ends up creating a "silo" environment whereby connections with the outside world are limited or lacking. Consequently, participants attending space conferences would frequently advocate for "breaking the silos". Other topics of interest among participants are "engagement of champions", "non-EO and non-space actors" and "space tech being part of the bigger solution" – a direct acknowledgement that, although GNSS and EO are critical resources, they deliver as part of a complex environment where non-space data play a significantly role. It seems that this item (apparent in many of our recent studies for DG DEFIS and GSA) will become a centrepiece of subsequent efforts and may even dominate future outreach. After all, the greater environment is already heading that way, as the corporate world discusses "alternative data" and the policy level is taking steps to create open "data spaces".
The eco in economy
For the most part of these 10 years, the debate in the EU space sector was primarily centred around economic figures. Securing bigger budgets for the programme, providing evidence of bigger economic benefits, attracting more private investors who can help start-ups raise capital, etc. In parallel, the world has been going through a still-slower-than-it-should-be process to realise the true dimensions of climate change and take substantial action to set today the foundations of a more prosperous tomorrow. This slow environmental awakening led us to the European Green Deal – the main policy driver for the next 7 (at least) years and a more mission-oriented approach in EU's Research and Innovation whereby specific environment-related missions are set under Horizon Europe. A large part of the European Green Deal and four of the Horizon Europe missions, namely adaptation to climate change, healthy oceans and seas, climate-neutral and smart cities, and soil health and food, could strongly benefit from innovative EO and GNSS based solutions. Thus, as environmental protection is slowly becoming an integral part of the economy, the next decade might potentially bring unprecedented opportunities for using EO and GNSS to tackle any associated challenges. As recently pointed out in the insights on key trends for 2021, an e-shape production, several metrics described in the Stakeholder Capitalism Report produced by the World Economic Forum could be addressed using EO-based solutions, including GHG Emissions (see Dim's take on that), land use, and ecological sensitivity. Through many of the studies conducted under the Sentinel Benefits Study for ESA, I have had the chance to explore the environmental dimension of a variety of applications: Farm Management Support in Poland, Aquifer Management in Spain and Flood Management in Ireland. Most studies show that environmental benefits are an important driver in the adoption of EO solutions by the different organisations. Against this backdrop, I think further focus on the "eco" economy will be very welcome, even if it remains inescapably tied to the economy.
Impactful innovation
In Europe, a significant part of the progress achieved in the Space sector is due to Research and Innovation projects. This applies at programme level, where, for instance, the product portfolio of the Copernicus services has been developed through precursor EU funded projects as of 2005, but also at application level, where many research institutes and companies have been developing downstream solutions targeting different sectors. My exposure to this process started as project manager of FP7 GNSS.asia and continued throughout the years as technical manager, day-to-day coordinator, or exploitation/communication work package leader of multiple H2020, ESA, ECMWF and Mercator Ocean projects. In this timeframe, I have witnessed the contracting authorities' increasing interest in exploitation and communication aspects. Demonstrated, for instance, by the clear distinction H2020 made between Research and Innovation (RIA) and Innovation (IA) actions, whereby the latter required the submission of a preliminary business plan already at proposal stage. In many ways, this has been a core part of the value proposition of Evenflow, and we have managed to develop very solid expertise in this regard. Nonetheless, in our experience – also common knowledge in the sector – once projects are over most of them do not seek to further commercialise the developed Intellectual Property (or fail to do so) thus most advancements remain unexploited.
This has, in many ways, characterised the sector; users being exposed for free (or even subsidised by the grant) to piloted products only during projects as such they rarely develop into paying customers. At the same time, providers are often operating in the comfort zone of grants, failing (or not even attempting) to venture out into the real market post-project. In the last 5 years though, and presumably continuing in that direction under Horizon Europe through the Horizon Results Booster and Platform, this issue has been recognised and is starting to be addressed. Yet, it seems to me, there is plenty to be done in order to nurture a stronger entrepreneurial and results exploitation-oriented culture among the participants in such projects.
This barrier – keeping innovation out of the market – is further linked with the type of support offered to companies. To date, the focus of funding and support mechanisms (competitions, accelerators, incubators) was predominantly directed at early-stage start-ups (or even pre-start-ups). In contrast, established companies seeking to engage on the elusive last mile to the market often struggle to find support. This is particular to the Earth Observation sector where, several companies established around 2015, are now approaching operational maturity (having lived through a few years of early market traction). Hopefully, more will be done in that direction too.
The people of the EU Space Programme
Having enjoyed every single working day (and night!) of these past 10 years in the EU Space sector, I have tried to share some of my thoughts, observations, and memories. These have been shaped through a series of projects, contracts, and assignments but, most importantly, they are the result of daily interactions with so many wonderful women and men of different nationalities and professional backgrounds. I am truly honoured to have met and worked closely with so many of the individuals who have contributed to the development of the sector. The "long-timer" generation has taught me a great deal about the heart of things, their history and vision, passionately passing on much more than just the nitty gritty details of work. At the same time, I have great expectations from the extremely and diversly skilled "newcomers" who are certain to be shaping things in the next decade. I am thrilled at the thought of working together towards finding better ways to make the EU Space Programme grow further, propagate its benefits, and realise its potential in the service of a better and more sustainable world. And, I hope, we can do all this whilst achieving flow at work and inspiring more youngsters/newcomers to join us on this journey.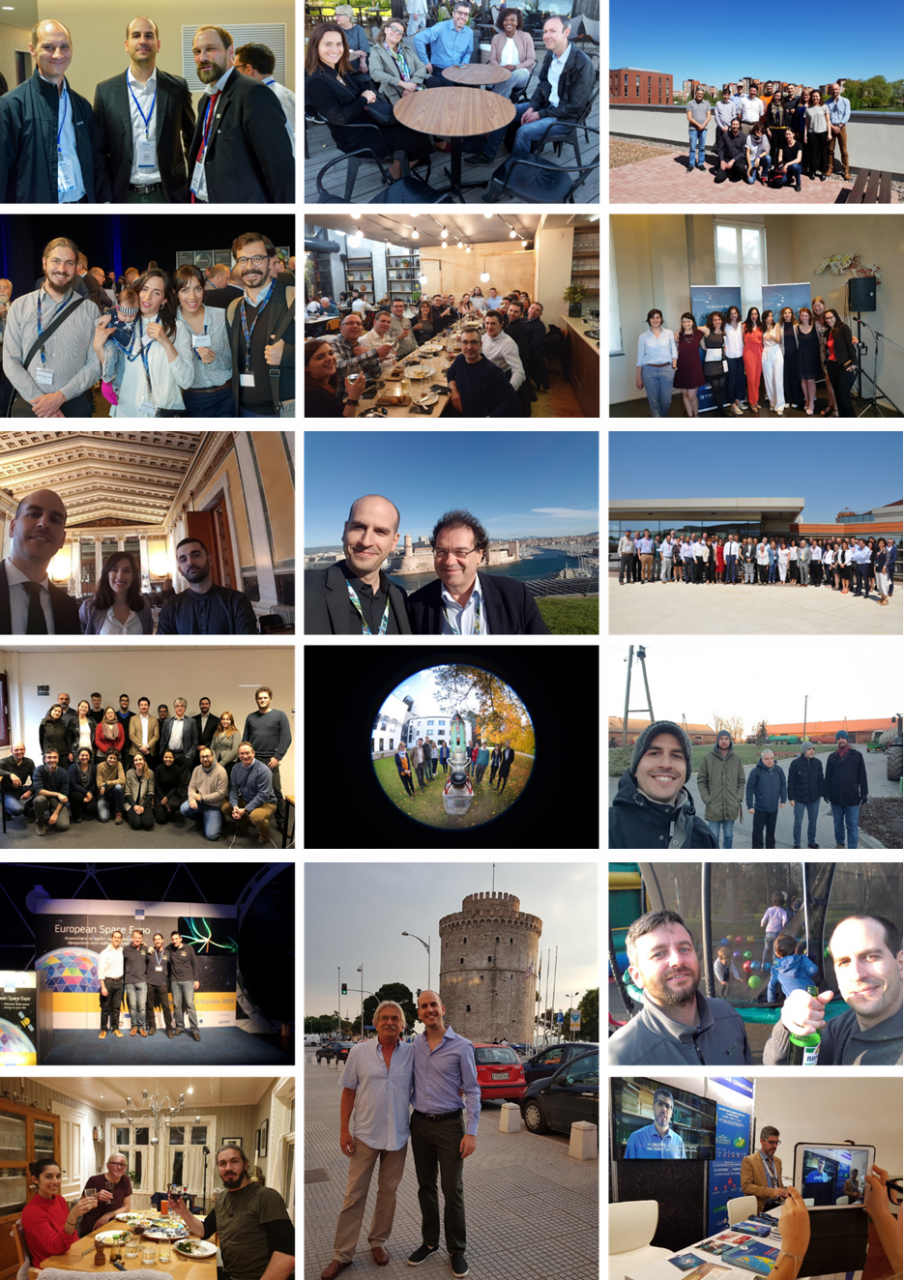 ---
[1] And with a somewhat amusing back story on its visual branding that we had the chance to experience first-hand!